Novoconnect Wireless Presentation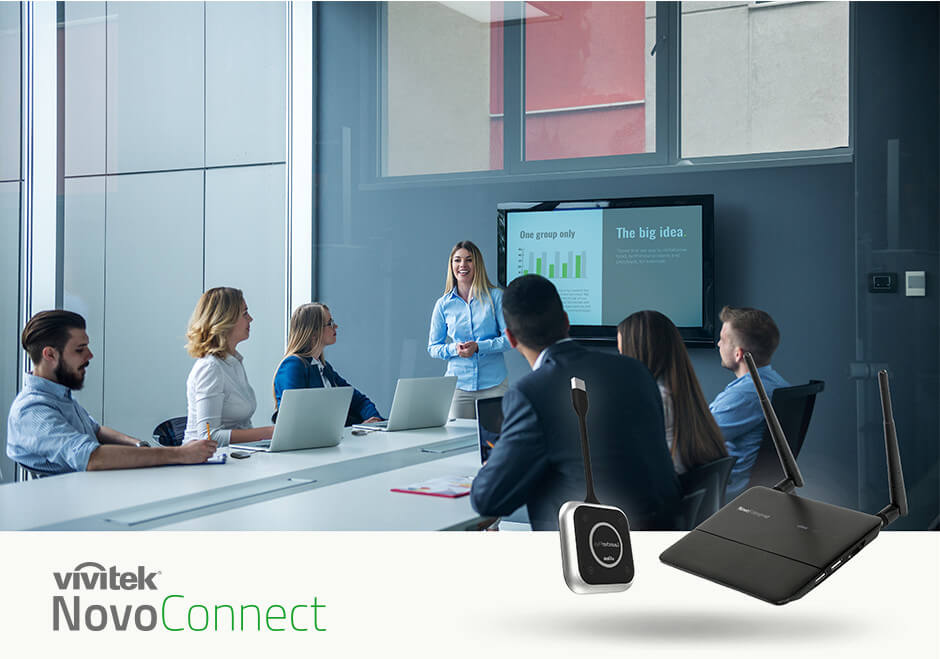 Vivitek NovoConnect is a cost-effective and hassle-free solution for easier collaboration and engaging meetings.
Download the Brochure for Corporate or Educational Clients
Connect

Connect to share content and mirror any device on the main screen in the meeting.

Work

Work with up to 64 participants in the meeting, while 4 can share content on a split screen.

Share

Share ideas and files instantly with all participants.
COMPLETE WIRELESS COLLABORATION SOLUTIONS
NovoCast

NovoCast is our entry-level solution, bringing affordable wireless presentation to the office or classroom.

Simple wireless presentation from any device using a free app for windows or Android, or AirPlay for IoS. You can connect up to 8 participants in any one sessions.

Learn More

NovoPro

NovoPro is designed to be integrated into the existing network and deployed to multiple rooms. Integrate NovoPro with any existing display equipment, such as projectors.

Suitable for every meeting room from small to large, with LAN integration. NovoPro works with all optional Launcher Modules.

Learn More

NovoEnterprise

NovoEnterprise is the ideal companion for a meeting room projector or screen - ensuring optimal standalone WiFi performance, thanks to the enhanced hot spot antenna.

Suitable for large meeting rooms and guest access venues, especially suited for use with the optional Launcher modules

Learn More

LauncherPlus

The LauncherPlus connects to any laptop, establishing a direct WiFi connection to any NovoConnect device. Intended for guests, LauncherPlus streamlines and secures the connection process, with zero impact on the existing network. The LauncherPlus is available with USB-A or USB-C connectivity.

In addition to launching your presentation "full screen" you can also select which quadrant of a 4-way split screen you wish to present in. 

LauncherOne

LauncherOne is is specifically designed for companies with strict Data Loss Prevention (DLP) and IT security policies that lock the laptop USB port for storage devices and do not allow corporate network-based wireless presentation solutions.

The LauncherOne enables meeting connectivity and collaboration while maintaining full data integrity and network security. In order to create the connection, the IT department can preauthorize and distribute the LauncherOne portable app to the employee laptops.
• Cable-free presenting eliminates the hassle and lets you get going in seconds.

• Connect quickly using QR code on mobile devices with NovoPresenter App.

• Cross-platform screen mirroring lets everyone share from any device.

• Optional USB LauncherPlus for direct connectivity with zero impact on your network.
DISCUSSION & COLLABORATION
• Enhance your meeting by sharing up to 4 screens simultaneously, while 64 participants can be connected to switch instantly.

• Wirelessly share files, meeting minutes and snapshots with all participants.

• Comment and collaborate in real time with digital annotation and highlighting.

• Moderation functions keep you in control of the agenda.
• Start your meeting and customize the home screen with your logo, agenda or connection instructions.

• Privacy and security are ensured thanks to PIN-protected guest access.

• With AES encryption and dual network management, security comes first.

• Dual-band WiFi and 2T2R connectivity ensure high standard of quality and performance.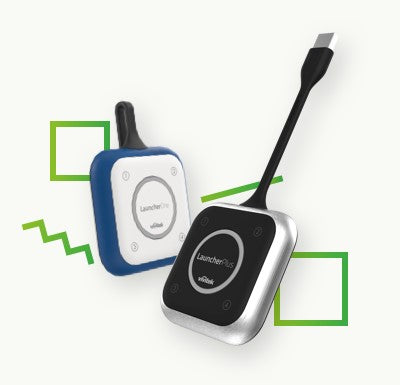 Direct connection with Launcher
Invite guests or team members to instantly connect to the NovoConnect unit from their laptops using Launchers. A mix of all three models can be used to accommodate different guest and internal user needs in the meeting room. No matter the setting, Launchers work with all NovoConnect solutions.
Regular price

Sale price

£430.00

Unit price

per

Regular price

Sale price

£1,020.00

Unit price

per